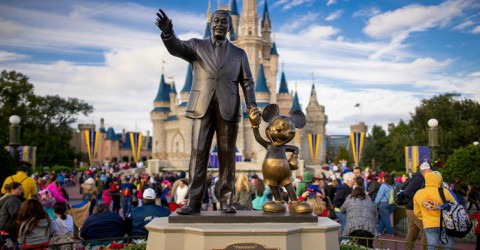 Have you ever been suckered into staying at one of those timeshare places for hours on end just to get a free _____ (insert the item of your choice here: a set of golf clubs, cookware, luggage, etc.)? Not all timeshare places are like this, of course, but many are. They usually involve long, boring presentations to people who have no intention of buying and who are just there for the free gift. It's a waste of everyone's time and money because the timeshare staff are focused on the transaction. Focused on making the sale. But they're missing a key piece: the human.
What Makes Disney Time Share Different?
Disney does something different. At Disney Vacation Club (Disney's "timeshare") they don't want to treat people like customers. They want to treat them as if they're already members … even if they don't buy the timeshare.
Consider this. Disney isn't the only timeshare in Orlando and they certainly aren't the cheapest. But what Disney is extremely good at is the human side, the emotional side. Cast members who sell Disney Vacation Club are taught in training that this property and this investment is not for everyone. It's not just about the cost; it's more about a right fit. So instead of trying to "make the sale," Disney Vacation Club cast members are trying to make sure your family values match our organizational values and vice versa.
We may not realize it, but as consumers we do the same thing. We patronize businesses and brands that match our values. Consider the restaurants you return to over and over again. Or even the airline you fly. Although Southwest Airlines is one of the top airlines, not everyone likes the fact that you can pick your own seat and then wait in certain lines to board. It's not a big deal, but many travelers simply don't want to think when they're on vacation so they choose another airline.
Valuing Someone's Time Even When The Outcome Is No Business
At Disney Vacation Club, the goal is for every person to leave better than when they got there, no matter if they make a purchase or not. But of course, Disney isn't the only organization that does this.
Toyota owners rave about the service center at their dealerships. They have a comfortable lounge filled with many amenities to make the waiting or buying experience better. And their service people are known for creating great customer experiences by doing things that owners don't always expect. Toyota knows that consumers have many choices when it comes to purchasing a vehicle so they leverage their ability to make the car-buying experience (or car repair experience) excellent so their customers will remain loyal and make future purchases.
Creating a Consistency of Value
What Disney and other world-class organizations like Toyota have perfected over the years is they've created a consistency of value. And customers that rave about Disney or Toyota or other organizations have forged an emotional connection to these brands, and that emotional connection is tied to their values.
In other words, if a family says no to the purchase of a timeshare, the Disney cast member will still offer the kids an ice cream or a photo with Mickey Mouse. The bus driver who drives them back to their car in the parking lot will share the best spots to watch the parade or what time the electrical water pageant show is that evening. This is a fond farewell that the family was surely not expecting. And who knows? Perhaps treating customers with that level of respect and kindness and compassion is worth it in the end. The basic Disney philosophy is that whether you buy or not, let's not make the "human side" the reason you don't! When your personal values and the organizational values align, that's when it goes beyond business.
Tangible Vs. Intangible Assets
For Disney or Toyota, the tangible assets are the "products." The car or the SUV. The bed, the room, the Mickey plush toy, the theme park ticket, etc.
In healthcare, the bullseye or the product of a hospital is the doctors and nurses (mainly) and their clinical expertise. And the tangible assets are medicine, treatment, etc.
But the intangible assets – for Disney, for Toyota, for Southwest Airlines, and in healthcare – are the things you can't necessarily hold in your hand: kindness, compassion, and courtesy.
These intangible assets are the things that make something stand out. These are the opportunities you have to differentiate your organization from others. They are things that connect with people on a visceral level rather than a transactional level. And, they're the things that create an emotional connection, which leads to trust and fierce loyalty.
This is how world-class organizations build loyalty. Not necessarily by making a superior product, but by delivering that product or service in such a way that focuses on the human side.
When that happens, a connection is created. Customers, guests, or patients feel welcomed, valued and respected. They have greater peace of mind and they are more likely to have a better customer or patient experience.