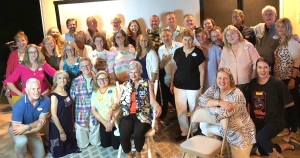 Do you remember your very first day at work in your organization? Was it exciting? Was it nerve-racking? Did anyone ease your pain and make you feel welcome? Was that by chance or by design?
Unlike many organizations today, my first day at the Walt Disney World Resort was a new employee orientation, or as Disney calls it, "Traditions." You could not start working in any role at Disney until you went through this essential first day. Even though it was four decades ago, I remember it like it was yesterday. Why? Because of how they made me feel.
Even though I was only a frontline employee making just $4/hour, they treated me like a V.I.P. The classroom facilitator greeted me at the door, made me feel welcome, invited me to go find my name tag and said, "Today, you get to earn that name tag, so pay attention!"
All the content was laid out in a past, present and future format, tied together with interactive activities and engaging stories. These stories were told by an experienced frontline Disney Cast Member in their own words, with their own examples.
We learned the history and the heritage of the company, and through story, we met the original founders: The Disney brothers, Walter Elias and Roy. The stories educated us on their successes, their successful failures and their constant thirst to improve. We established an intentional culture where we treated people like guests in our own home, and that same philosophy was how we treated each other.
We learned that at Disney, on property the same size as San Francisco, there are over 1,500 job classifications. Yet, everyone has the same role: "We Create Happiness by creating the finest in entertainment for people of all ages, everywhere." The most important word in that sentence was "we" because it didn't matter where you worked or what you did; everyone had an equal share of importance in this show.
We discovered that Disney is a first name company with an intentional language based on show business: Employees are "Cast Members," and Customers are "Guests." You wear a costume, not a uniform, with your name tag always over your heart (left side, like when you pledge allegiance to the flag). You either work "on-stage" or "off-stage," but everyone is working towards the same goal, to create a "good show." This meant went it came time to pick up trash, it was everyone's job, not just the housekeepers.
Anything that detracts or distracts away from that show is a "bad show."  We never say, "I don't know," without following up with, "but let me find out." And, to keep from putting on a "bad show," they taught us a world-renowned service philosophy and how we were empowered to make it right.
Every Cast Member had four keys to success: 1. Safety, 2. Courtesy, 3. Show, and 4. Efficiency. It's always those four, and they're always in that order. Ideally, you should use all four of these keys in concert every day you work. However, in instances where you found yourself caught in a dilemma and wondering what to do, you would use these as your operational priorities.
Boy, I felt ready to go! I knew where we were headed, and I couldn't wait to start!
During the middle of the program, I remember the facilitator asking if anybody had a Disney family story to share. I chose to share a story about my six brothers and sisters going to Walt Disney World, where my youngest sister (age 5) and I (age 10) got lost in the Magic Kingdom, separated from our family.
At the end of the story, my sister and I were assisted back to find our family by a Cast Member working at the Haunted Mansion attraction. The facilitator asked, "How did that make you feel?" I told him I was thankful and relieved. I felt I was in good hands and could trust that Cast Member.
It was when he said, "Now, you get to make that same kind of magic for others," that I began to reflect on what he was saying, and BOOM! I had a huge epiphany; a transformational moment happened. I decided, from that moment, that this was no longer just another job for me; it was something altogether more. And I knew that someday, I wanted to teach this same program to new people.
Fast forward five years, and I finally got my chance to audition for the right to teach that orientation program. The audition had well over 200 fellow Cast Members try out, and I was lucky enough to be selected along with eleven other new Traditions instructors. (See the group photo). We still worked a full-time job in the hotels and parks, but one or two days per month, we were scheduled to teach Traditions to 40-60 impressionable new Cast Members.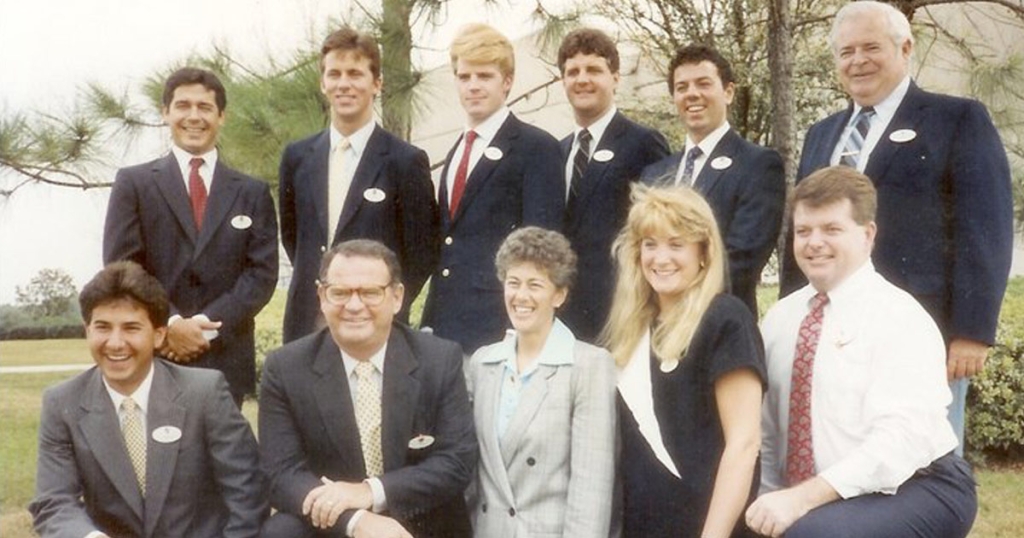 Training to become an instructor was a bit intense but a lot of fun: Five days and then another week of practicing. Our trainer was Dennis Frare, and our boss was Disney University Vice President, Valerie Oberle. I share these names with you because, just this past weekend, we had over 40 alumni from Disney University and Disney Institute Professional Development Programs at my house for our 30th class reunion!
Nearly all of the people I've worked with during my time at Disney University and Disney Institute have since been promoted to executives at Disney or are executives of other companies. Disney prepared us to create magic for Disney, but they also prepared us to create magic for the real world, and for me, this magic has flourished into an 18-year career.
(P.S. I still pick up trash everywhere I go!)