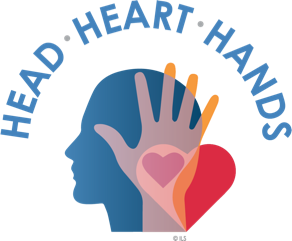 HEART
A leader or manager whose HEART is engaged realizes that sincere and compassionate care for employees' professional growth and satisfaction at work will be fulfilling for them as individuals and as caregivers. He knows that his efforts are raising their confidence and loyalty. And he knows that all of this translates to happier, more satisfied employees who are more likely to provide a higher level of service to patients.
@
When the HEAD is engaged, the leader is in touch with her operation, ensuring systems, processes, and people are working according to strategic design. She knows how to mobilize and engage people as individuals and in groups within her area of responsibility, including how that responsibility connects with the whole. She follows a strategy and leads for results.
HANDS
When the HEART and HEAD are engaged and aligned, the HANDS can follow. In other words, once a person is committed (heart engaged), and confident and competent (head engaged), he is keenly aware of how his actions and words can make employees feel safe, confident, and loyal, and patients feel secure and in good, caring "hands."
Where Does Loyalty Come From?
Leadership Excellence: Shared vision of purpose. Total involvement of staff. Mutual accountability.
Employee Engagement: Role versus job tasks. Global expectations. Localized. On the spot recognition.
Customer Loyalty: Treating patients as a VIP = Very Individual Patient builds patient trust where patients say, "You're not just A doctor, you're MY doctor." This leads to peace of mind.
Key Loyalty Outcomes: Patient intends to return, intends to refer others, likely to give back in other ways (philanthropy, foundation, volunteer, etc.)

Loyalty Success Formula: Leadership drives internal service quality and engaged employees, and they in turn drive exceptional patient experiences.