In business books today, there are a lot of analogies between Renters vs. Owners with regard to employee mentality. I instantly think back to my college days when my roommate would always take the opportunity to show me a Dukes of Hazard move in our rental car while we were on vacation but would never think of doing the same move in a car that he owned. And of course, all college students know how well we treat rental dorm rooms or rented apartments versus our own rooms in our parent's house or our own first home.
When I think about the nearly two decades I invested with the Walt Disney Company, I think about the times I had the most pride and the times I did not. I think the organization got it right after Disney acquired ABC Television on July 31, 1995. Prior to that purchase of ABC, I would always leave work and head home to find my neighbors on my doorstep asking me about the latest Disney news flash they heard about or saw on the television.
To my embarrassment, I knew nothing of this new acquisition, new movie, rumor or the like. And over time, they stopped asking, because I would use words like "I don't know what they are doing", "I don't know why the company would purchase that…I'm just a front-line employee." My language was all third person at best. After all, I was just an hourly employee working a job. Also, I was secretly using Disney to help build my own work experience and resume. At that time, I was just a renter, and that's how they treated us lonely college students.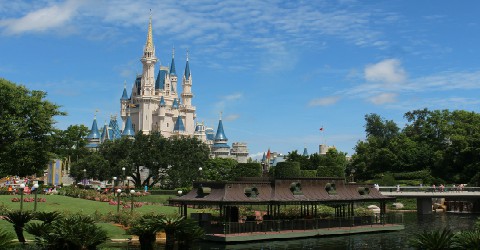 But all that changed one day when something simple happened… simple, but brilliant. Like any other day at Epcot Center, we would change out of our costume into our street clothes in the Cast Services Building and say good night to the security officer guarding the back door. But this time, he handed me a piece of paper, titled "Flash 4500" (extension 4500 was the number you dialed for information on the telephone to help guests get any Disney company trivia or status update). The Flash 4500 that day described that the Walt Disney Company was going to purchase ABC /Capital City, and described it in four meaty paragraphs. The first paragraph tied to our history and heritage (ABC actually hosted the first Disney program called, "Disneyland"). The second paragraph tied to good business decisions. The third paragraph tied to what it might mean to me, as a Disney Cast Member. And the last paragraph was brilliant; it asked and answered the top 3-4 questions we were bound to be asked by friends and family.
The impact? Well, I read it, and then tossed it in my passenger seat and drove home. Like every news flash about Disney, 3-4 neighbors tackled me on my front doorstep to ask "why Disney would buy ABC?" Except this time, I was armed to be an Ambassador for the company, instead of just an hourly employee building a resume. They invested in me as an owner, and guess what? I took ownership. For the first time in my career, I used words like "we", "I", "my" in explaining the companies' decision. "Here's why we did this." "I think it's a good idea." "We foresee benefits …" and the invisible sash went over my shoulder that said, "Disney Company Ambassador." I felt very proud that day to be included on a major step in my company's future. That they would entrust me with that important information.
Can you always invest in your employees with information before you leak it to the press,? Obviously not every time, but you can sure try to do so simultaneously. Or could you allow your cast members to leak the information to the press? What a statement that would be!