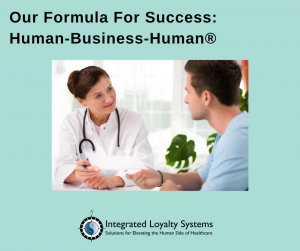 Human-Business-Human® is at the heart of our company philosophy. Its concept is simple: build the relationship first. Conduct the business, second. At ILS, we talk a lot about the "Human-Business-Human®" model, basically says to begin each patient interaction "on the human" with a sincere, personal greeting. Then, proceed to the business or clinical reason for the interaction. And then, finally, close on the human again with a fond farewell.
By beginning and ending every patient (and employee) interaction "on the human," we build connections with others, which leads to greater trust and ultimately a good patient experience.
My daughter and I had an experience with an orthodontist recently that really impacted us.
If you're a parent, then you know how tough it can be sometimes to get your kids to go to the dentist or an orthodontist.
My daughter has a retainer and a palate expander to help gradually stretch her jaw to accommodate her adult teeth. So when we moved to a new town recently, we were on the hunt for a new orthodontist. Of course, we were looking for a professional.  But as the parent of an apprehensive tween, I was also looking for someone who would set her mind at ease when it comes time for braces.
First Impressions Matter. Enter On The Human To Make A Good One.
They say you never get a second chance to make a good first impression, right? After meeting the nurse, x-ray tech, and the orthodontist, I'm thrilled to say our first impression was exceptional.
This dental team exhibited the Human-Business-Human® model as if they were the poster child! Here are a few moments from our visit that really made a lasting impression on me and my daughter:
Human-Business-Human® In Action
First, the nurse smiled and welcomed my daughter by saying "Hello Olivia, we've been expecting you!" 
She shook her hand, complimented her outfit, and made small talk with her. She had read our paperwork and, noting that we were new to the area, she used that information to ask my daughter how she likes her new school and new neighborhood. (Entering on the human.)
Next, she walked us into the exam room where my daughter immediately saw a white board on the wall with a hand-drawn image of Snoopy. Surrounding Snoopy were the names of all the patients scheduled for that day. In the center of the board, in big lettering, was a message for my daughter: "Welcome Olivia!" More human…and such a warm welcome…my daughter was at ease. And so was I. Note: This is such an inexpensive way to personalize the patient experience. The white board is no more than $10, right? 
Next, they told her what was going to happen before it happened so she would be prepared. We call this technique Caring Out Loud® – or narrating the care process as it happens so patients know are aware of what's happening in their own care. They took a few x-rays and let her see the images so she could understand how her teeth were growing. This was the Business or Clinical reason for the visit and it was pleasantly mixed with a whole lot of human.
After the x-rays, the orthodontist came in. The nurse introduced him to my daughter (Warm hand-off) and he greeted my daughter by name, shook her hand, and then introduced himself to me. (More human!)
He performed a quick oral exam, reviewed the x-rays with her (and me) and discussed the step-by-step process leading up to braces. (Business. Using no medical jargon or confusing terms, he painted a realistic picture of what we could expect)
But then he did something I didn't expect.
He thanked me for considering him and he asked for my business. He said, "There's no charge for the visit today and no charge for the x-rays. I know you're new to town and probably shopping around for the right orthodontist. I'd love to treat your daughter and give her the best care for her teeth. If you choose our practice, let's make an appointment in about six weeks to check her progress."
Wow. Looks like we've found our new orthodontist.
So the question is can we do this across all employee groups in healthcare…ALWAYS?
Our valet parking attendants, hospital volunteers, or front desk receptionists are often the first point of contact for patients and their families. Imagine how the patient would feel if each of these people said, "Welcome, we've been expecting you." These few simple words can make the patient feel less stressed, less worried, and more at ease.
At the end of the visit or exam, imagine how impactful it would be if patients were thanked for choosing that doctor, physician's group, hospital, rehab center, etc. Would they be likely to return? Would they be likely to refer your practice to their friends and neighbors? I can tell you that I've already referred three people in our neighborhood to this practice.
What simple things could you and your team do today to start positively affecting the patient experience? And how can you make sure the entire care team (clinical and non-clinical personnel) are on board?