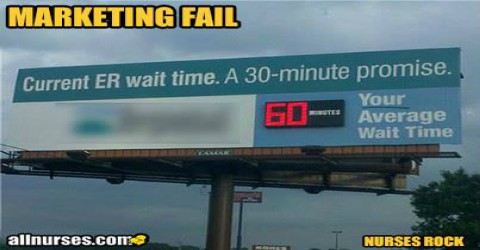 We've all seen them. Those colorful billboards on the highway that boast the local hospital ER's average wait times. Maybe your marketing team or local advertising firm created the billboards or even added something similar to your hospital website. The idea, of course, is to inform patients to know in advance how long they can expect to wait and then encourage them to choose your facility based on that information.
It's a great tool to communicate your brand promise of delivering exceptional patient experiences incredibly fast and efficient. But do we, really? When a patient sees your billboard (or any messaging, really) that reads: Wait time at County General Hospital ER is 10 minutes, chances are quite good they'll be expecting a ten-minute wait time.
But what happens when patients read the sign or see your online ad and then arrive at your facility — and the wait time is not ten minutes? What if it's 30 minutes? Or an hour? Or longer? Unexpected events happen all the time in healthcare, particularly at the Emergency Room. But if the wait time is longer than what you've promised – and it's not reiterated by your care team — then you've caused frustration for patients and you've failed to deliver on your brand promise.
The Billboard
A few years ago, I saw a billboard for a hospital birthing center. The image showed tiny baby feet and the messaging said, While you wait for fingers and toes, we'll wait on you hand and foot. Great message, but this is also a perfect example of over-promising and under delivering. The unintended consequences are two-fold: 1. You've just raised the expectations of the patients, and if you fall short, you've set them up for disappointment. 2. It's demoralizing for employees! They see this message and think, What?! Wait on you hand and foot? That's not why I went to medical school.
The billboard is, of course, just one piece of the larger puzzle, which is healthcare marketing. But I use it to illustrate the point that sometimes there's a disconnect between the behind-the-scenes marketing team and the operations or care team on the front lines: while one team is selling the dream, the other feels like they're servicing the nightmare. Overpromising and under delivering is frustrating for both patients and care team members, and it most certainly puts your brand at risk, because the staff feels like they are unable to effectively deliver on the promise of that brand.
Of course, the billboard (or other similar advertising) can be a powerful tool. To use a baseball analogy, I'd call this hit a 'single' (hit) because as a healthcare marketer, you've successfully communicated a message to everyone that sees the billboard or the ad.
In a single, there's only one winner (in this case, the marketing team), but you know what? You actually struck out. Why? Because the care team has no idea what their brand promise is, let alone what their role is in helping to fulfill it. They may even make your new marketing line a punchline for their joke!
Patients don't know about the three ambulances that just pulled into the back of the ER. All the patient knows is that your message said they should expect a ten minute wait time or that you will "be waiting on them hand and foot." When those things don't happen, you can literally see the blood pressure rise as the red flows up their neck.
Delivering on the promise of your brand is more than just having a catchy slogan or a colorful ad or billboard.
It's more than a direct mail piece or a fancy mission statement hanging in a frame on a wall.
In order to effectively deliver on the promise of your brand of providing exceptional patient experiences, healthcare marketers must ensure there is a clear and clean line of consistency across the organization. Every employee (clinical and non-clinical) must have an understanding beyond just their daily job tasks; they must be connected to purpose and know their role in the healing process.
The Spatula
Stepping out of healthcare for a moment, I want to share a story of an incredible experience I had at a grocery store. (It's worth noting here that your patients aren't just comparing you to the hospital across town or even in the next state. They're comparing you and the services you provide (or don't provide) to the personalized services they get from the hairstylist that remembers tidbits about their kids; the local coffee shop that remembers their name and how they take their coffee each morning; and the hotel that welcomes them by name.)
If a "single" is when one person wins, as I mentioned before, then a grand slam is when everyone wins. Let me explain.
I was visiting some friends out of town and needed to replace a spatula I'd broken the night before during a barbecue. I went to the grocery store and couldn't find any spatulas, so instead, I picked up a bottle of wine and some flowers. As I was checking out, the cashier said, "Hello sir, welcome to Safeway. Did you get everything you need?"
I replied, "Well, no, actually, I was looking for a spatula but wasn't able to find one."
She made one quick call and within a matter of seconds, a young man arrived with three spatulas for me to choose from. I chose the one I liked and the cashier scanned it saying, "The spatula is $4.52 – is that ok, sir?" Of course, it was, so she added it to my total.
Now, who won in this transaction? The organization, of course, because they got $4.52 they otherwise wouldn't have received.
Who else won? The cashier! Why? Because she's not just a cashier performing her job tasks – she's part of the total shopping experience.
I also noticed that below her name on her name tag it said, "Stakeholder." So she has a stake in the success of this organization, which means she'll probably get a financial kickback at the end of the year as a reward for her efforts. It's a win-win-win.
But wait, there's more.
At the end of the transaction, the cashier handed me my receipt and said, "Thank you for choosing Safeway, Mr. Poore, hope to see you again."
I was dumbfounded! How in the world did she know my name? I never once handed her my credit card or told her my name. I simply swiped it quickly to make my purchase.
The cashier told me that everything they do is tied to their mission to create great customer experiences — including their credit card machine. The technology they use at each register prints the cardholder's name on the receipt so the cashier can create a personal greeting and a personal farewell with every customer.
To continue the baseball analogy, this was more than just a single, double or even a triple. In my book, this was a grand slam. All over one simple transaction!
The magic ingredient that made that cashier create an exceptional shopping experience was that she knew her role in the shopping experience. She was connected to something beyond just her job tasks of ringing up purchases; she had the whole picture in mind. She was connected to her PURPOSE. The key to delivering on the promise of your brand, whether your industry is healthcare or grocery stores or merchandise, is to engage everyone as an architect of the organizational culture. This is the difference between short-term compliance (routinely performing job tasks) and long-term commitment (connecting to purpose).
This is why things like "programs," "initiatives," or "campaigns" fail. In fact, my team and I highly recommend getting rid of these words altogether because they cause employees to tune out and adopt the mindset that this too shall pass. If employees think it's just another marketing initiative or marketing program, it means nothing to them. There's no buy-in. No ownership. No authenticity.
In order to safeguard your brand, build loyalty, and consistently deliver exceptional patient experiences, you must make a direct link between what's happening in your boardroom, on your billboard, in your waiting room, in your patient rooms, and even in your break rooms. Because the break room is where most employees will put your advertising messages through what we call "the snicker test" — where they either embrace it or laugh it off until the next message comes along.
So what does this look like in healthcare? It looks like every team member going the extra mile not just sometimes, but built into a culture of always. It may have started as an efficiency matrix, but it's now transformed into a kindness technique that is now what every employee would say is how we do things around here. It looks like every employee going beyond their daily job tasks to their real purpose and role in the healing process, whether they work directly with patients or behind the scenes in non-clinical areas such as billing, security, the gift shop, and marketing.
It looks like:
• The medical assistant or the Emergency Room triage nurse who walks out directly to each patient because she was given visual clues (the color of your shirt, a beard, eyeglasses, etc.) to identify you rather than just shouting your name for all to hear.
• The physician that walks her patients back to the front desk and takes that time to ensure the patient understands instructions, asks if they have any questions, and then hands them over to make a follow-up appointment.
• The billing clerk that takes the time to sit with the patient's family, show empathy, and listen — before he demands payment.
• The front desk receptionist at the Emergency Room that reiterates the wait time or clarifies the wait time when patients arrive so they know exactly what to expect (narrating care out loud is what we call CARING OUT LOUD.)
Delivering On The Promise Of Your Brand
Too often in healthcare, we're focused on efficiency at the expense of courtesy and kindness. We're focused on getting 'em in and getting 'em out.
But healthcare is changing.
The volume to value movement being pushed by affordable care act and CMS means that excellent healthcare is being defined as more than just clinical excellence; it's also about meeting and exceeding patient expectations in the kinds of interactions they have with their healthcare providers and those in non-clinical roles.
Your team must know not only how to do their individual job tasks efficiently and effectively; they must also know their role in the healing process. And your marketing strategy has to be more than just spraying and praying; it must be intentionally aligned with the mission, vision, and values in your operational game plan. As healthcare marketers, that is the key to ensuring exceptional patient experiences and delivering on the promise of your brand.
Our team can help you create this line of consistency – this thread throughout your entire organization – to help you deliver on the promise of your brand. In short – we help you operationalize your brand promises so that your patient experiences match your patient expectations.
Contact us at info@wecreateloyalty.com or give us a call at (407) 859-2826. We'd love to work with you.