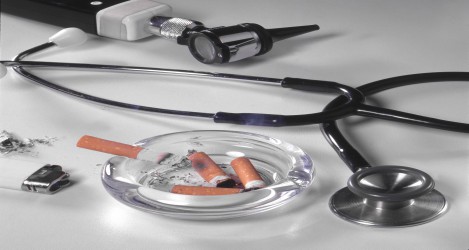 I had my annual mammogram recently when something shocking and unexpected happened.
When my name was called, a nurse led me to the changing area. It was warm and softly lit. There were ample-size lockers with velvet hangers so I could store my clothes neatly. The nurse was waiting for me when I emerged from the changing room and she made some small talk as she led me to the room with the large mammography machine. She invited me to sit and told me that the technician, Patty, would be in shortly to conduct the mammogram.
So far, so good.
Then, Patty walked in. A petite woman probably in her late 50s, Patty had bleach blond hair and a warm smile. She greeted me by name and took the time to explain exactly what the exam would entail (which is a great example of Caring Out Loud).
I liked her instantly.
However! As she walked me over to the mammography machine, I was overcome with the scent of cigarette smoke.
GROSS.
It wasn't just her breath that smelled of cigarettes. It was on her clothes, and her lab coat. It lingered on her hands and certainly on her smile – which now at this close-up range I noticed were yellowish.
She did everything right – smile, friendliness, clinical expertise, greeting people by name, Caring Out Loud…but the smell of smoke was a complete and total turn-off for me.
I understand healthcare workers are people too. And many do smoke. But am I the only one that sees the irony of going for what is essentially a cancer screening and having my clinician reek of cigarette smoke?
We talk a lot about the concept that "Everything Speaks" and I can't think of a clearer example than this right now. This woman was kind to me and her co-workers and it was evident that she was highly skilled at her job. But I will never get my mammogram at that facility again.