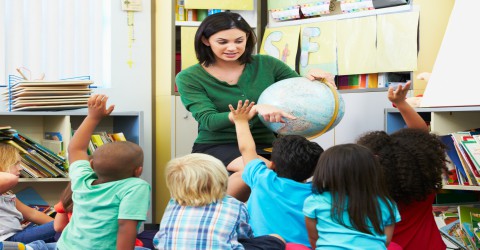 As leaders, when we talk about improving the patient or customer experience, we must remember that if we're not caring directly for patients or customers, then we need to be sure we're taking care of those that do. Why? Because the employee experience drives the customer experience.
This is exactly what we're seeing unfold in West Virginia. As of today, teachers in West Virginia have been on strike for nine days, and counting. It appears they've reached their collective breaking point and have come together to fight for better pay and better health insurance.
The news reported recently on a phrase that emerged from this strike. It's powerful and it gets right to the heart of what this strike is all about: Teachers' working conditions are students' learning conditions.
Amen to that.
It's pretty well known that teachers spend more than just the six or seven hours a day "doing their job." The time spent in so-called off-hours includes lesson planning, researching, grading papers, meeting with parents and guardians, and more. And that time off the typical 9-3 schoolday is often unaccounted for or easily dismissed. It's no doubt that these women and men, who entered this career not for the money or the glory but because of their love of children and their love of teaching, are getting a raw deal.
Employee Experience Drives the Customer Experience
And thus, these educators hit the tipping point. During the strike, their message is simple: their experience as employees of the school district is directly (and negatively) affecting and impacting their students' learning experience in the classroom.
If teachers don't feel valued, appreciated, or cared for, how can they be expected to make students feel valued, appreciated, or cared for? The amazing thing is, that in spite of all their frustrations, these teachers and teachers throughout the country always put their children first. Which is why this strike is so interesting. These teachers aren't fighting to get the same kind of paychecks and health insurance that investment bankers receive (although wouldn't that be nice?) They're saying, take care of me so that I can be better prepared to take care of my students.
That's powerful.
Unfortunately, this situation isn't unique to education. It's true in every industry, including healthcare.
If You Aren't Caring Directly For a Patient, You Should Be Caring For Someone Who Is
A good rule of thumb for leaders in healthcare, especially is, if you're not caring directly for a patient, you need to take care of those that are. Because everyone has a role on the care team and everyone has a role in the patient experience. Taking care of doctors and nurses to make sure they have all they need to treat and care for patients is important. But it's only part of the equation and only part of the patient experience. What about all the other touch points along the way? What about the sterile processing team, food services, front desk reception, security guards, environmental services, housekeeping, technicians, billing reps, schedulers, valet parking, etc.? Most of these folks don't care for patients directly; however, they are an absolutely essential (and influential!) part of the patient experience. Who is caring for them?
The employee experience really does drive the customer (or patient) experience. If employees feel overworked, unprepared, unempowered, and unappreciated, how do you think they will treat your customers? I guarantee you they'll carry that anger and frustration with them every time they interact with a customer or a patient.
Who knows what the resolution will be for these teachers in West Virginia. As of this writing, teachers' groups in Oklahoma are on the verge of launching a similar strike for the exact same reasons. Hopefully, the right people will begin to see the bigger picture here. And hopefully, they will begin to understand that treating our teachers well helps not just teachers and their families, but the students and families they so humbly serve.