Can you tell your brand story in 100 words or less?
Warby Parker, the online eyeglasses retailer, sure can.
Here's their brand story: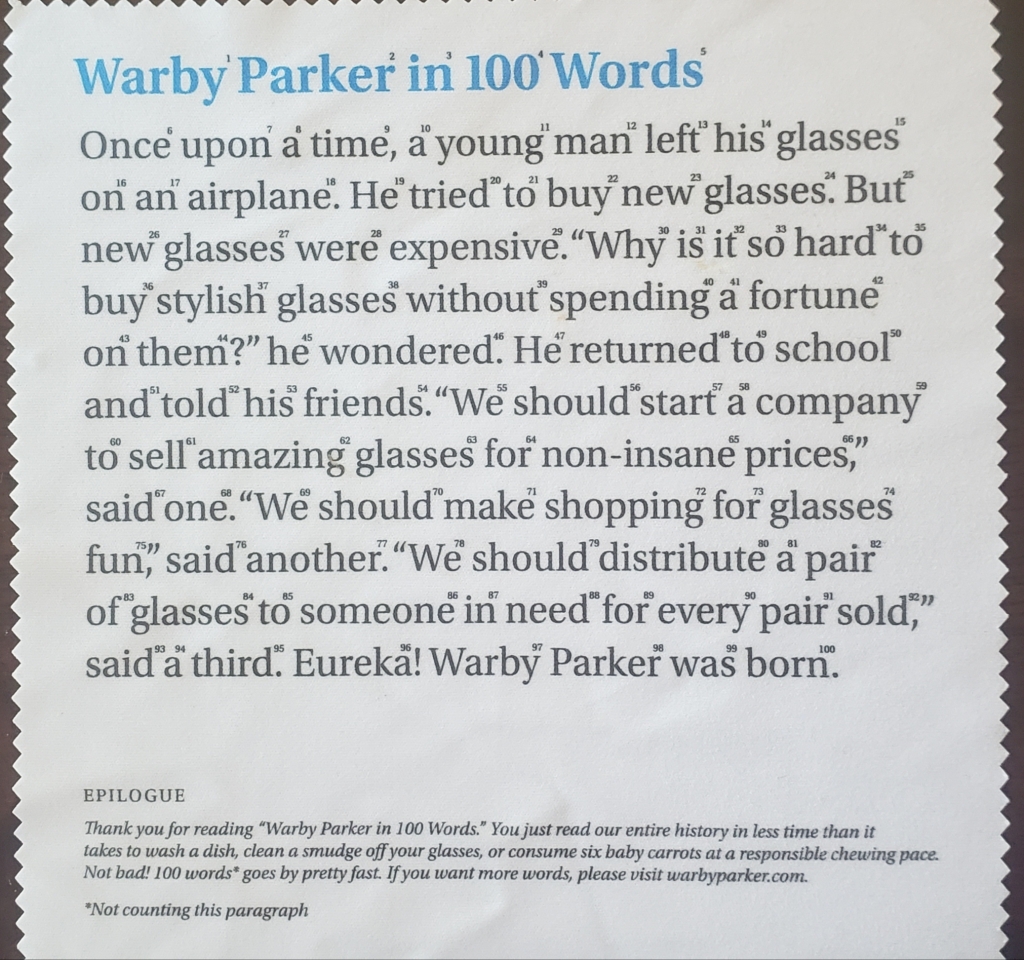 Now that you know their story, here's how they deliver on that promise of their brand.
They Offer Style, Affordability, Ease.
Like many businesses, Warby Parker aims to offer a great product at a great price.
Recently, I was looking for affordable glasses that were colorful and stylish and fun to wear. But none of my local stores had any interesting or different frames. At a friend's recommendation, I went to the Warby Parker website. The first thing I noticed was that their site wasn't bogged down with thousands of words; instead, the copy was simplified and direct. And the home page was filled with lots of colorful, trendy, and fashionable lenses all affordably priced. I began to wonder how I would be able to choose a lens that I couldn't hold in my hand or try out in person. But they anticipated that "pain point" by allowing customers to borrow up to five frames at home for free for five days so you can see which pair suits you best. Delightful!
The website was personal, friendly, and very easy to navigate. In a world where digital sometimes loses the personal touch, this one did not. Finding lenses that I liked was seamless. Although I didn't take advantage of the offer to borrow up to five frames at home for free, I had peace of mind knowing that was an option if I chose it.
The Experience Is Enjoyable
If you made a list of your favorite things, chances are shopping for eyeglasses would be toward the bottom of the list. It's not that it's a painful experience, it's just not…well…fun.
Warby Parker is different.
From the first click on their website to opening the box with my new pair of eyeglasses, each step on this customer journey was delightful.
In fact, the delight continued even after I opened the shipping package. When I opened the glasses case, this message was waiting for me.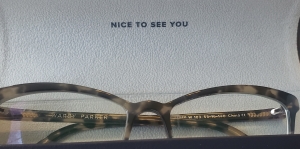 Delightful!
Inside the eyeglass case was an instruction manual on how to care for the glasses, keep them clean, what to do if you need an adjustment or repair, etc. Everything is written in a friendly, easy-to-understand language and it's printed on a trifold card stock that fits perfectly in the glasses case for easy access. And it's written with a touch of humor and lightheartedness.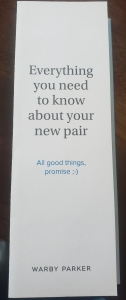 *I must also tell you that the little booklet is printed in a normal font size — unlike other instruction manuals that are printed in a font size best suited for a mouse! As someone with severe astigmatism in both eyes, I so appreciate the ability to read this little manual with ease. Delightful!
I Feel Connected To Their Brand Story
Another note about the instruction booklet is that it reminds the reader of the company's mission: for every pair of glasses they sell, they donate a pair to someone in need. This is powerful. Knowing that my purchase helped someone in need made me feel connected to their brand story. I love my new glasses, but knowing I helped someone else makes me even more happy with my purchase.
Speaking of their brand story, I shared Warby Parker's 100-word story at the top of this post. But what I didn't tell you is that this is not just something they share on the "About" section of their website. It's printed on the 4" square eyeglass cleaning cloth, which is found inside every eyeglass case they sell. BRILLIANT! What a creative and memorable way to remind the customer of their brand promise and brand story.
_____________
Sometimes, when we make a purchase in-store or online, there's a disconnect where employees on the delivering end have no idea what their role is in delivering on the promise of the brand. Or, the website is counterintuitive, difficult to navigate, and all around confusing for the consumer. This is a great way to tarnish your reputation, lose customer loyalty, and thus, lose business.
Yet other times, there seems to be an invisible thread running throughout the entire organization where everything just seems to click into place and run smoothly. This thread connects every touchpoint on the customer experience journey right back to their mission, vision, and values. These are the organizations that best deliver on their brand promise in every customer interaction.
This is what I experienced with Warby Parker.
They've earned my loyalty and they've gained a customer for life because they truly know how to deliver on the promise of their brand.