If you've seen one doctor's office, waiting room, exam room…you've seen them all, right? Well, maybe that's not entirely accurate, but you know what I mean. By and large, they all look the same. So what makes patients refer their friends and family? What makes your facility stand out from the others?
We talk a lot about the importance of delivering clinical expertise and excellent customer service and how that can be a huge differentiator from one facility to another. But there are other things you can do to make the patient experience more warm and fuzzy. And many of them are easy and don't take much time or money.
Make Your Parking Lot Stand Out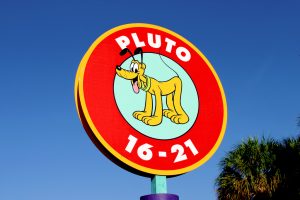 One tip comes from my years working at Disney. Specifically, it's about their parking lots. If you've been to any Disney theme park you know their lots are divided into sections and are cleverly labeled. At the end of the day, it's a whole lot easier to remember you parked in Pluto Row 19 since it made your whole family smile when you arrived that same morning.
For the hundreds of thousands of cars Disney accommodates every day, their lot simply has to be numbered. However, by adding large signs to the light posts in the lot that feature the name of the section, the row number and a familiar Disney face, they've personalized the experience.
A few years back, I worked with a team from a hospital in Colorado. They were revamping their facility and one of the areas they were working on was their parking garage. They asked me specifically how I would redesign it and I gave them the Disney example. Instead of Disney characters, we brainstormed other names that would make sense to patients, visitors, and employees and that would be unique to their institution.
Adding Life To Pictures On The Wall
Another tip I've shared with many clients is to personalize your waiting areas and your exam rooms. How? By incorporating pictures or artwork that is unique to the area they serve.
For instance, one healthcare system along the Chesapeake Bay in Maryland decorated their waiting area with photographs of the beautiful Chesapeake Bay. The pictures were of boats and sunsets. Bridges, inlets, and the Maryland state flag. And better still? All the photographs were taken by the daughter of one of the physicians. She personalized them all by numbering and signing each one.
The key to personalization is to embrace your community! Know the people and the communities you serve and then create an environment that speaks directly to them. It's just one more piece in the puzzle of how to create world-class experiences.