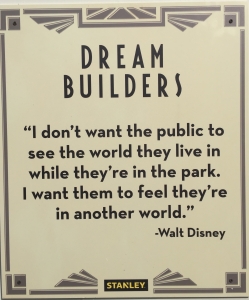 Since my family lives in Orlando, we visit Disney fairly regularly.
During one such visit, we visited Hollywood Studios and I snapped this photo of an area being refurbished.
It reminded me of a term I was taught early on in my Disney career in the late 80s: "Visual Intrusion."
Visual intrusion

Visual Intrusion – Any outside element that makes its way into a scene, breaks the visual continuity, and destroys the illusion. WDI works hard to eliminate visual intrusions.

–The Imagineering Field Guide to the Magic Kingdom at Walt Disney World, p. 13
Most organizations aren't focused on masking their visual intrusions. But I don't believe it's because they don't care; I believe it's because they've never considered how visual intrusions affect their brand and the story they're trying to tell.
Anytime you visit a Disney theme park, there's bound to be something under construction or down for rehab (or refurbishment as Disney says). But instead of posting signs that read, Closed for repairs or Construction underway, Disney gets a little creative with their visual intrusions by displaying signs that read, Please pardon our pixie dust! (with a picture of Tinkerbell sprinkling fairy dust) or, More Disney magic coming in 2020! (with a picture of Mickey wearing his sorcerer Mickey hat and waving a wand).
Heck, even during the rare times the pristine Disney landscaping is covered in ice or light snow, there's a sign in the platers or the flowerbeds that reads: Jack Frost paid us an unexpected visit! We'll be blooming again real soon!"
Disney even goes so far as to theme their visual intrusions so they become a part of the story, rather than a distraction from the story.
In 2014, Disneyland's Magic Kingdom theme park was constructing a new area to be themed after the Pixar movie, Finding Nemo. There was a huge construction wall that was hard to miss as you walked through the castle. But instead of seeing a giant construction barricade, guests saw an ocean-blue wall. There were painted swooshes of waves and coral reefs where painted characters from the film were playfully swimming. There were even strategically placed "peepholes" so kids small and large could take a sneak peek at the magic as it was being built. The whole area generated a combination of excitement, curiosity, and anticipation. Disney had successfully transformed this visual intrusion into part of the story.
In healthcare, of course, things such as repairs, repainting, and construction happen all the time. And these are good things because they mean the hospital or healthcare system is committed to investing in improvements that will positively affect the patient experience. But these kinds of things can distract from the care experience — because they are a visual intrusion.
One lesson from Disney that I think healthcare can adapt seamlessly is to begin to document the story you want to tell. As leaders, we need to determine THE IDEAL PICTURE in our specific location. What do we want patients and families to see with regard to patient rooms, reception areas, check-in desks, cafeteria, restrooms, etc.? And, conversely, we need to determine what things we do NOT want them to see (medical waste, doctors on break, equipment repairs, new construction, etc.) and then figure out ways to either eliminate these things or disguise them in a way that minimizes their impact.
Once we've determined what the ideal picture is, every department trainer and manager needs to know this so they can incorporate it into the training process.
When every employee can answer the question "What is picture perfect here in our location? They'll be able to spot a Visual Intrusion and be on track to creating a seamless patient experience.