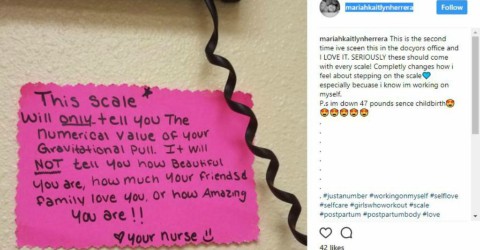 Most women will tell you that one of the worst parts of going to the doctor is having to step on that dreaded scale. It never reflects the numbers we want to see. And yet, it's an important baseline for doctors and nurses as they track a patient's health. As a woman, I can tell you that I don't care about any of that baseline hogwash – I just really have no desire to step on that scale!
After I had each of my children, I remember the anxiety of trying to return to my "pre-baby" weight, whatever magical number that happened to be. At the time, I can remember thinking what a huge issue it was to step on the scale at my doctor's office. But now, looking back, I can see that it was just me trying to conform to what society tells new moms we should do.
The pressures to drop the baby weight and return to "normal" are overwhelming. Magazines do a stellar job of perpetuating this mostly unachievable goal by showing pictures of celebrities, post-baby, and lauding the fact that they returned to their pre-baby size in some impossible timeframe.
The pressure for women to not look like they just had a baby is real and it can be self-defeating. Which is why the note that one woman found taped to the scale at her doctor's office was particularly comforting.
It's making its rounds on social media. Here's what it said: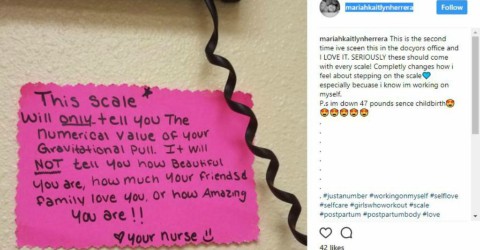 Wow.
Here's what I love about this note. It could have been typed up and printed out, but it's not. It's handwritten, which makes it personal, human. A message from nurse to patient.
Also, it tells patients what they already know but it says it in a way that reminds them that in the grand scheme of things, it's not that important. Patients know that it's only a number. But nurses know that it's a big deal for most women, especially for those that have recently given birth. The note serves as a gentle reminder that their health, the health of their baby, and their postpartum recovery are more important than any number on the scale.
This might seem like a random act of kindness and on the surface, it is. But this doctor's office has the opportunity to take it to the next level by making this become a "Play" in their Departmental Playbook.
We've talked about the value of the Playbook before. In essence, the Playbook is a continually updated record of what a team is doing right and what a team does to make things right when they go wrong. This random act of kindness has the potential to reach more than just a few patients who happen to use that scale or visit that exam room. Instead, imagine if a note like this was affixed to *every* scale in *every* patient room so that *every* patient saw this message at the start of their appointment?
If it affected one patient, one woman, so much so that she snapped a picture and shared it on Instagram, why not hardwire it and make it an "Always Play" in the Department Playbook so that every patient can have this same great experience?
This is what my team and I do for every one of our clients. We work with them to identify the many random acts of kindness that happen every day in every department at their organization. Then, we teach them how to hardwire that kindness (service excellence) so it becomes more than just random – it becomes business as usual.
Once you start noticing these random acts of kindness, think about whether it would make a good "Play" for every team member to embrace. It's simple, really; it's just not always easy.
But this is what we mean by elevating the human side of healthcare. It means uniting the clinical excellence (getting the patient's height, weight, blood pressure, and other vital stats) with service excellence (a warm welcome, a personal connection, and a little note on the scale to ease the patient's mind).