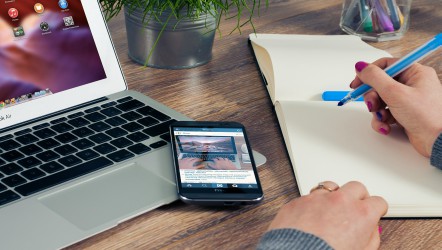 I heard a speaker a few weeks ago who asked the audience, "Is your list of emails your daily to-do list?"
Many of us laughed at first, but then I was shocked to realize…IT WAS! I've even been sending myself emails recently to remind me to do things. Emails were running my life. But why?
Growing up, l used to think being a jack of all trades was an asset; I was always striving to be what my father called, "well-rounded." I even played three sports each year of high school to help prove this mantra.Even though I excelled and become a starter on the football field, I never really fully executed a true expertise in any one thing, whether in sports or in academics. Not enough to win awards, recognition or scholarships, anyway.
Many who think like I did, say to themselves education is just a means to an end. In my studies, I chose to do the bare minimum asked of me in class – just enough to allow me to play football for the rest of my life. Boy was I wrong.
But please don't misunderstand me – being well-rounded in many things did help me in many facets of life. But I believe we need to change this mindset if we're going to focus, excel and thrive. We need focus, we need to prioritize, and sometimes we need to say no to those immediate things that will not help us get to that one great thing. That ONE THING we have been so focused on from the start.
To perpetuate this problem, when we enter the business world, we're told, you need to be a good multi-tasker. In other words, you need to master the ability to juggle multiple business balls above your head simultaneously. Again, it's a trap! Which ball can you drop? None. Because when you have no one true focus, they all become equally important. And as you aspire to climb higher and higher on that ladder of career success, you get buried deeper and deeper in the morass of emails, conference calls, meetings and interruptions. Until one day you realize that these things are running your life. And your prioritized daily to-do list is nothing more than the last URGENT email. And then it hits you, "I have become a "Jack of All Trades and a MASTER OF NONE."
It is time to take our lives back! How do we do this? By prioritizing what Stephen Covey used to call the "Big Rocks." This is a great video that explains the danger in filling your day with all the minutia and having no time left for what really matters to you. His premise is if you focus on the big rocks first – your highest priorities – you'll have time to handle the other non-urgent items on your list. And, most importantly, you'll be moving toward your personal and/or professional goals.
Top 3 Tips To Reclaim Your Life Boost Your Productivity
Identify what's most important to you. Is it your health? Your marriage? Your kids' education? Your financial health? Your mental and emotional well-being? These are your "Big Rocks" – your highest priorities.
Then, plan your week and schedule according to your highest priorities – your BIG ROCKS – first. For example, if health is a Big Rock for you, you'll most likely block out time on your calendar to work out. Or perhaps you plan your meals ahead of time so you don't indulge in fast food. Your Big Rocks are your non-negotiables. Studies show that when we write down a commitment or a list, we're more likely to stick with it. So write it down and make your Big Rocks your top priority.
Finally, schedule your little rocks. We can never really prepare for everything that comes across our desk, our inbox, or through the door, but when the Big Rocks are taken care of, you'll have more time for the little rocks.
So how do you schedule your days or your weeks so your email doesn't become your "to-do" list? What strategies and techniques work for you? Or better yet, which strategies would you share with your new employees or a son or daughter headed off into their first job? Drop me a line at jake.poore@wecreateloyalty or tweet me @jakepoore. I'd love to hear what tools are in your toolbox!