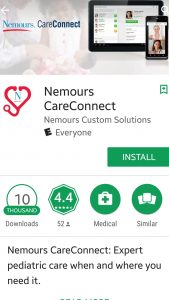 Two nights before we were to leave for a Walt Disney World vacation, my daughter developed a slight fever and a weird rash. At first, I panicked. But one phone call to my pediatrician's office at Nemours gave me the peace of mind I needed to finish packing and feel confident traveling six states away from the family doctor.
I described my daughter's symptoms at length to the on-call nurse. She diagnosed it as being non-contagious and something my daughter's body was fighting. We would need to watch for high fevers and make sure she's eating, drinking and sleeping like normal, but otherwise she was fine to go on vacation. That made me feel better. But it was what she told me next that really gave me peace of mind.
The nurse told me about a 24/7 app that functions much like FaceTime or Skype. Through this app, we could have a virtual meeting with a physician or nurse affiliated with the same children's healthcare we use at home: Nemours. She told me exactly where to find the app, how to register, and how to use it when traveling out of state. As a mom, I can tell you it was very reassuring to know if my child needed non-emergency medical attention I wouldn't necessarily have to go to a strange urgent care in the middle of the night; instead, we could tap the app and talk to a care provider who had full access to my daughter's medical information.
In healthcare, I sincerely believe peace of mind is the name of the game. Healthcare is so uncertain. It's confusing and scary. No matter the situation, if we can give patients and their families some semblance of peace of mind it becomes like a suit of armor. It insulates them from feelings of fear, uncertainty, and apprehension and instead builds feelings of assurance, confidence, and even trust.
I did download the app, but I'm happy to say I didn't have to use it. My daughter never had a fever and her rash-like symptoms disappeared over a few days just as the nurse had told me. But just knowing I had the app – and a familiar provider – as close as my phone gave me the peace of mind to enjoy our vacation.