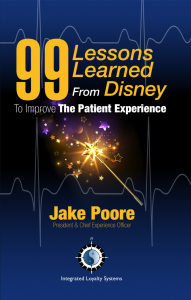 Here's what people are saying about Jake Poore's new book:
"If you haven't had the good fortune of hearing Jake Poore speak, this book will give you an introduction through captivating and compelling stories which forcefully illustrate what is possible when we follow his lead … and what's at stake if we don't. I highly recommend this book to everyone who works in healthcare." – Brian Wong, MD, MPH, CEO, The Bedside Trust
"As a former member of the Disney team myself, I can confidently state that Jake has truly captured the essence of Disney's principles for creating loyalty-driving experiences. And more importantly, he has thoughtfully and artfully applied these principles to the world of healthcare. The lessons are field-tested and they work. I highly recommend this book!" – Dennis Snow, President, Snow & Associates, Inc.