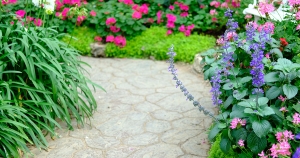 Walt Disney World is famous for creating happiness for people of all ages, everywhere. This includes infants and new mothers. Disney has Baby Care Stations in each of its theme parks and a special place just for moms and babies, including rocking chairs, changing tables, and all the accoutrements for nursing, feeding, and changing a baby. Moms tell us it's incredibly appreciated and a great place for a little respite. 
 
Consider offering a private space for your visitors or employees who are nursing mothers. Soft lighting, warm colors, and comfortable chairs all help create an atmosphere of comfort. 
 
It's said that more prayers are uttered in hospitals and airport terminals than in churches. Creating a non-clinical space away from patient activity can offer peace, comfort, and quiet for patients, visitors, families, doctors, nurses, and anyone who needs a quiet moment to get through a trying time. 
Many hospitals have chapels or meditation gardens. Some have a rock garden or a walking labyrinth in an outdoor space. If you're not sure what would work at your facility, ask your patients and your employees.
 For more lessons about how to take care of your employees, click here.