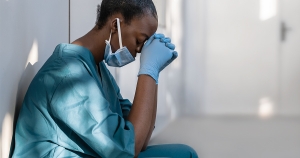 Disney goes to great lengths to maintain a sense of magic in their theme parks, keeping a clear line between onstage and backstage. They also do an excellent job of providing cast members with backstage break areas (away from guests), as well as fully staffed cafeterias and places outside to relax and decompress during a busy shift. Guests at Disney theme parks don't see cast members in costume smoking a cigarette outside their work location, or taking their lunch break in a restaurant in the theme park along with paying guests. Why? Because it takes away from the magic.
Patients and visitors in hospitals and healthcare facilities are affected by things you might not necessarily want them to see.
Consider the stress level of employees at a hospital, urgent care, hospice, rehab, or other care facility. For nurses, opportunities to take breaks are often few and far between — often, they work two shifts back-to-back. When are they supposed to get some downtime? At the end of their second shift?
Employees need some space to call their own, to decompress, de-stress, and relax, if only for a few minutes. It doesn't have to be anything fancy, but a break room or lounge away from patients and away from the activity of the facility will provide employees with a much-needed time out.
Consider how you might feel if you saw your father's heart surgeon eating lunch, texting, or taking a nap? Of course the surgeon needs to eat, sleep, and relax, but how might this affect your perception of the surgeon?
At one healthcare system we visited, employees in white coats stand on a public sidewalk and take a smoke break, right next to a Cancer Center sign. They do this because of a lack of backstage areas for team members, but how do you think it makes patients or visitors feel when they witness it?
We must give employees a time and a place to decompress backstage or we risk having them decompress onstage.
For more lessons about how to take care of your employees, click here.