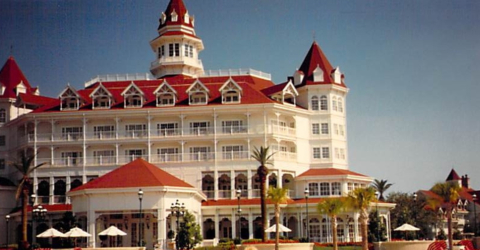 If you've visited the Grand Floridian Resort at the Walt Disney World in Orlando anytime in the last 20 years you were probably greeted by a kindly old gentleman. Always dressed to the nines and ready to tip his hat, extend a hand, and share a smile, Richard Gerth was the face of the Grand Floridian. His family issued a statement today sharing that after a few weeks in hospice, their beloved Richard has passed. The tributes are pouring in on social media from people all over the world sharing their memories of the man who brought so much happiness and joy to everyone he met.
I don't know what Richard's job title was other than "professional greeter" but you know what? It really doesn't matter. Because he embodied the spirit of Walt Disney World where the mission of the 65,000+ cast members begins with these three words: We Create Happiness. That is what Richard focused on every day standing at the front of the elegant Victorian-style resort. People returned year after year just to take a picture with their friend Richard. It didn't matter if they were guests of the Grand Floridian hotel or not. 'Stop by to see Richard' was on their list of must-dos right up there with 'watch the fireworks' and 'ride Space Mountain.'
Not surprisingly, Richard was beloved not just by the millions of guests visiting Disney but also by his fellow cast members. Ask anyone that worked at Disney from the early 90s to the present and I guarantee you everyone – and I mean everyone – knows Richard.
That is the power of one cast member, one employee, one person. Richard wasn't a CEO or a movie star. He was simply one of thousands of cast members who came to work every day just like everyone else. But what he was able to do so perfectly and so simply was use his role in the show to create little moments of happiness and magic for people visiting Disney. Whether he was holding the train for a bride arriving for her ceremony or kneeling to greet a child visiting from the Make A Wish program, Richard had a way of connecting to people's hearts and making them feel special.
What an incredible gift he had ~ we're so lucky he chose to share it with us.
Richard's remarkable and humble legacy reminds us that we all have the power to impact others' lives in positive ways. Perhaps today we can all take a moment to connect with one another and share the same kindness Richard shared. All we have to do is tip our hat, extend our hand, and share a smile.