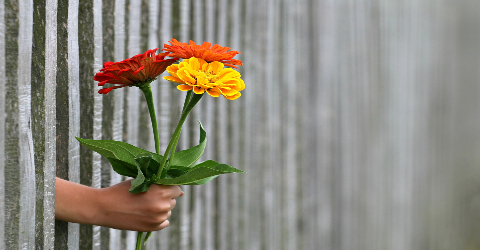 There's magic happening all around us. We just need to pay attention.
I'm happy to say I was paying attention on this one particular day and I couldn't help but notice how the magic moments were intertwined.
******
Just the other day, I was at the airport ready to board a flight to visit a client hospital. One of my team members, Char, was flying in from a different city to join me. As I was waiting to board, Char called to say she'd just learned one of the clients we would be meeting with was celebrating a birthday that day. She suggested we make a little magic!
"Since you arrive before me," she said. "Why don't you pick up a card, sign it, and leave it for me in the gift shop. I'll pick it up and sign it once I get there and we can surprise this employee together."
To add a special touch, I confirmed with her that this employee also likes coffee so I offered to pick up a Starbucks gift card, too.
*********
Meanwhile, I board my Southwest flight and as I was reading some emails, a flight attendant made an announcement that a woman seated a few rows behind me was celebrating her birthday. It appeared as though she was with some friends because they all began to cheer.
The flight attendant said she would be turning out all of the cabin lights and she invited everyone to turn on our call lights to simulate a darkened room with candles. As we all sang Happy Birthday, another flight attendant presented the passenger with a birthday "crown" made of bags of pretzels! The woman was smiling and laughing, her friends were taking pictures and videos, and everyone on the flight clapped and wished her a happy birthday.
I'm sure this was a moment that the woman won't soon forget. But let's dial it back for a moment.
The Southwest Airlines team didn't have to do this. It's surely not written in any of their training materials or their "Standard Operating Procedures" documents. But I guarantee you this isn't the first time they've done something like this.
Southwest is one of those companies that empowers their employees to think outside the box to create a great customer experience. They empower their employees to create magic.
Then, they hardwire  this "play" into their Southwest Airlines playbook so that this one random act of kindness becomes a "play" for other situations and other passenger birthdays. They don't handle every birthday or every celebration exactly the same, but they know that the organization has their back to get creative and make a little magic in the moment. And, while this was a no-cost way to create a memorable experience for this one passenger, the ripple effect is that it also created a magical and memorable experience for every passenger on that flight. Including me.
Magic.
************
When the flight landed, I headed to the airport Starbucks to get the gift card I'd promised to pick up. As I approached the counter, I noticed a small chalkboard sign with a message announcing their "Starbucks Customer of the Day!"
Now that struck me as a little odd because remember, this is a Starbucks inside the airport. Their customer base of passengers changes daily; however, their regular customers are employees of the airport or the airlines. And on this day, imagine my surprise to learn their Customer Of The Day was a Southwest Airlines flight attendant!
So here Char and I were trying to make a little magic for one employee at our client hospital and then Southwest Airlines comes along and makes magic for one of their passengers and to top it all off, Starbucks makes a little magic for a Southwest Airlines employee!
Magic.
Magic moments are happening all around us. They're even happening at your hospital or care facility.
Do your employees feel as empowered as Southwest Airlines employees to be creative and do something special for patients, families, or one another?
And perhaps most important, do you know how to take these magic moments and hardwire them so they aren't just random acts of kindness but rather the way you do things at your organization? (Check out this video for more information)BLOG – SOUTHWEST BIRTHDAY CELEBRATION