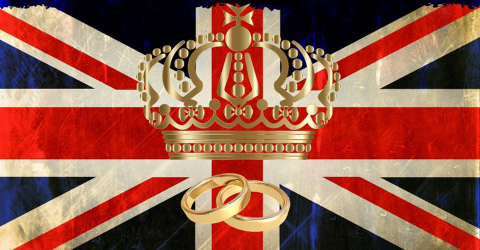 Did you watch the Royal Wedding? I sure did. At 5 am I propped myself up on the couch and became immersed in all things royal. Every channel covered a different angle, attempting to paint a picture of what life was really like behind the scenes of the royal wedding. One interviewer, who had been a part of Willam and Kate's wedding a few years ago, summed it up best when she described the atmosphere at the palace and the church as a combination of precision and mayhem.
Precision and mayhem. I love the juxtaposition of those two words! They remind me of the analogy of the duck swimming gracefully atop the water while his feet are paddling furiously beneath the surface.
To me, precision is the intention. It's the goal. The striving for perfection. The best-laid plans and all that.
But mayhem? Mayhem is reality, honey.
Mayhem is what most of our lives are like. We put on a good face of "precision and perfection" to the outside world and in our Instagram feeds, but what's really going on under the surface of the water?
Proactive Anticipation
We should never expect perfection. And yet, we live in a culture that celebrates perfection at home, at school,  and at work. More often than not we fall short. Why? Because perfection is rarely attainable and mayhem and chaos are inevitable. So how do we find the happy middle?
I think part of the answer lies in the key phrase we use a lot: proactive anticipation.
Proactive anticipation can be used to create pleasant patient experiences – for instance, having a plan in place for patients whose birthdays fall during a hospital stay (have pre-made cakes, pre-signed cards, balloons at the ready, etc.)
But proactive anticipation can also be used to anticipate not so great situations. We may not be able to control what happens, but we can have a plan in place so we know what to do if and when things go wrong.
A Lesson From A Former "Disney" Supervisor
I remember working at Disney back in the 90s. There was one supervisor who always tossed a wrench in my best-laid plans. One day, I recall standing behind the Guest Relations counter at the Disney-MGM Studios waiting for guests to come in. I had stocked the park maps and show schedules. I had vacuumed the floor and dusted the countertops. I adjusted my name tag, smoothed my skirt, and made sure everything looked picture-perfect for that day's guests.
And yet, just as I started to relax and lean against the back counter, my supervisor Jeff casually strolled through the lobby. As he walked, he made eye contact with me and simply said: Imagine this: there's a fire in the trash can right outside that doorway … the park is about to open and it appears you're the only one here right now … so, what are you going to do? And then he kept walking!
He made his point. I was so confident in my efforts to make everything perfect for the day that I hadn't prepared for the unexpected. 
Healthcare workers know the unexpected happens all the time. You never know what will walk in the door or arrive via ambulance. When you walk in for the start of your shift, all of your professional expertise and training is front of mind. You're solid, ready to go. But what happens when things go wrong? Do you have a plan to navigate the day striving for precision and perfection while also juggling the mayhem that is bound to occur? 
As leaders, consider challenging your team in much the same way my supervisor challenged me. Encourage them to think of the wildest, most off-the-wall things that could possibly go wrong – and then brainstorm what they would do. Maybe a new policy or procedure will result. Maybe new issues will emerge. Maybe walls will come down and employees will confess they really aren't sure what to do when things go wrong – and that's ok, too. Because it opens the door for you to educate your team and empower them with tools they need to be responsive and prepared for whatever comes their way.