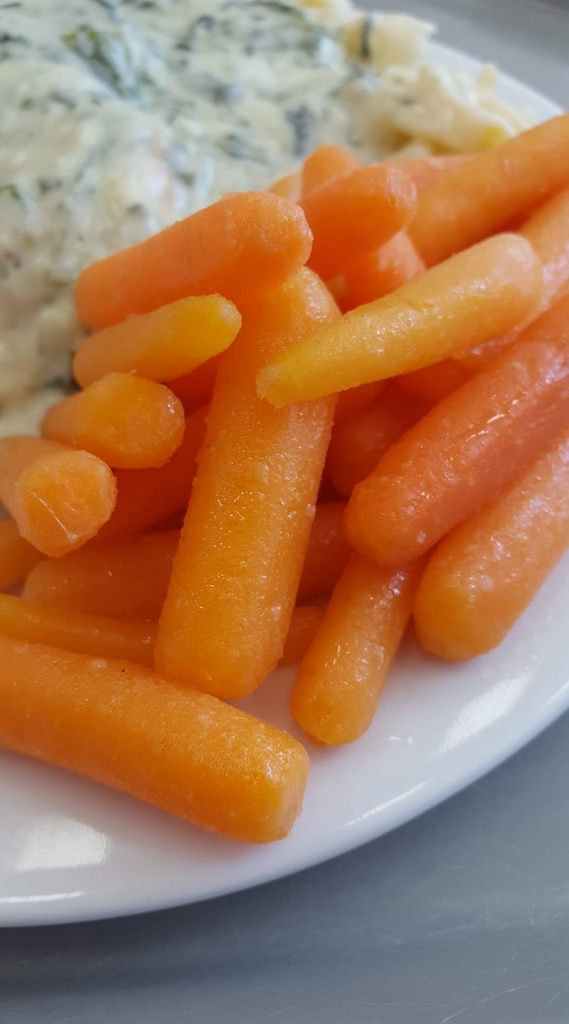 By Kim Court
Buttery carrots might not sound like the foundation for a super compelling story, but stick with me.
A dear friend of mine works at a hospital on the East Coast.
She isn't a doctor or a nurse, but she is considered a "necessary employee." And so, every day since the curve started to steepen, she has left her family and the safety and comfort of her home to help support the work of the clinicians treating sick patients.
She adores her job. But sometimes she envies her friends who are staying at home (and airing their daily grievances on Facebook).
Like so many others, she is weary from working long hours behind the scenes with a skeleton crew. But, she is also grateful to have a supervisor who provides her with ongoing updates, an unending supply of anti-bacterial wipes, and the occasional lunch break away from her desk.
Today, was one of the lunch breaks away from her desk.
Outside of work, my friend is a writer…a storyteller. Which means she's observant. She notices things most of us are too busy to notice.
As she entered the employee cafeteria today, she immediately noticed the red tape lines on the floor to remind employees and visitors to stand apart because you can be asymptomatic for days and still be contagious. She snapped a picture of the red lines with her phone, grabbed a food tray, and took her place in line — taking care to keep six feet behind the person in front of her. As she waited, her mind pondered those red lines. Lines of separation that were so unnecessary just a few short weeks ago. The magnitude of this dark and uncertain COVID19 situation pressed heavy on her tired heart. She took a deep breath and released a long sigh.
But then, a little ray of light.
The most beautiful buttery carrots she'd ever seen or smelled were scooped out of a steaming chafing dish and placed on her tray, alongside the "most divine" (her words) Chicken Florentine.
Chef Dan had created a masterpiece. A moment of beauty and an expression of love and caring right smack in the middle of all this heartache and worry.
I'll let her tell you the rest of the story.
"It just floored me. No one here is calling it in or giving 50%. People here are doing their BEST work in the midst of this craziness and it's beautiful to watch. Please don't complain about being stuck at home. You are brunting the surge that is coming our way. Every day you stay home, Chef Dan has time to do his best. The nurses get to take a lunch break. And the biomed guys can repair old ventilators so they're here if we need them. We talk about flattening the curve. But imagine for a moment, standing in the Emergency Department, and looking out the doors for what might come. You are brunting the surge."
I am grateful for my friend and for the important work she is doing.
I am grateful for the doctors, nurses, and all care team members who are pulling long hours with minimal breaks, minimal equipment, and minimal sleep.
And I am grateful for all the Chef Dans out there who are making their version of buttery carrots. People like the Environmental Services team, housekeeping, security, billing, customer service, phone operators and so many others. These folks may not be caring directly for patients but, in this unprecedented time, they are most definitely doing their very best to care for those that care for patients.