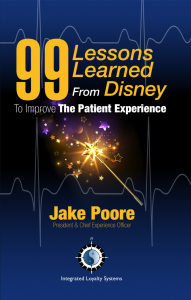 We're kicking off #PatientExperienceWeek with a book giveaway!
To celebrate Patient Experience Week, we're giving away copies of Jake's new book, "99 Lessons Learned From Disney To Improve the Patient Experience."
The book is filled with 99 lessons or tips you and your team can use right now to elevate the human side of healthcare and make the care experience better for patients and families.
But we want to hear from YOU! What's your best tip?
Comment on this post — or comment on our Facebook, Twitter, or Instagram — with your best tip.
Tell what YOU do at your hospital or care facility to make the patient experience BETTER.
One winner per day will receive a signed copy of Jake's new book ~ we can't wait to hear your great ideas!