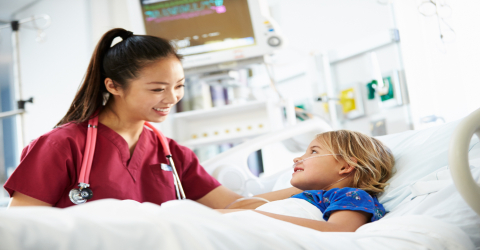 No worries. That's really the goal of all customer service efforts, isn't it? We don't want our patients or customers to worry about what's going to happen next. And yet, they do worry. Why? Because we haven't given them a reason not to worry. We haven't communicated in verbal, written, or non-verbal ways to assure them. In short, we haven't created peace of mind.
In The Absence Of Clear Communication, Chaos, Fear, And Uncertainty Fill The Void
In the eyes and ears of the patient, everything speaks and everything matters. Whether it's dirty silverware in the cafeteria, doctors smoking outside the entrance to a cancer center, or dead plants in the waiting room, everything has the potential to positively or negatively affect the patient experience. But there are two tools that can proactively anticipate patient worries, help alleviate them, and create peace of mind for patients.
Tool #1: Create Peace of Mind Using The Art of Positive Distraction
One of the best examples of the art of positive distraction is at the Radiology Department at the University of Pittsburgh Medical Center (UPMC).
An MRI suite can be scary especially for a young child. Although they have some of the most sophisticated equipment in the industry, the cold white walls were hardly the warm welcome the UPMC team wanted to create. Most technicians do their best to allay patient fears, but the UPMC team took it one step further.
They set out to redesign the entire experience, from the patient's point of view, to make it better.
They used storytelling and bright colors to make the experience friendlier, warmer, and a little less scary. All of these touches created positive distractions for the patient to focus on during the procedure.
And it worked.
Prior to the changes, the team sedated about 80% of patients, but after the redesign, that number dropped by nearly 90%.
Not every facility has the resources to create such an environment. But perfecting the art of positive distractions requires little more than soliciting patient input, seeing things through the patient's eyes, and coming up with solutions that create a better experience.
Tool #2: Create Peace of Mind By Caring Out Loud®
Another great tool to create peace of mind is to use a tool called Caring Out Loud®, which is — letting the customer or patient know what you're doing while you're doing it. It's one of the most effective ways to make a human connection with patients.
When my daughter went for an MRI, she was very nervous. But our technician was excellent. He took a few moments to talk to her and let her know what to expect. He introduced himself and got down on one knee so he could talk with her at eye level. He told her about the procedure and he answered her questions.
The things he said had nothing to do with his training or level of clinical expertise. But by Caring Out Loud®, he helped to reassure and calm her, which made the entire experience better for everyone.
When you connect to the person behind the image and use tools like Caring Out Loud® and the Art of Positive Distraction, you begin to bridge the gap between clinical expertise and human kindness so both are applied with equal rigor in every patient interaction.
When this happens, you will have differentiated your facility from others by being known for more than just your clinical expertise; you'll become known for delivering a world-class patient experience.
Interested in learning more? Download our FREE Case Study from Baystate Breast and Wellness Center