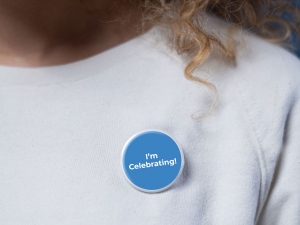 At Disney, buttons are used to celebrate life's important accomplishments, such as birthdays or anniversaries. However, they are also used to celebrate just about anything that a guest believes is worth celebrating.
This is accomplished by a button that says "I'm Celebrating!" and then space and a marker for the wearer to fill in what he or she is celebrating. At  National  Rehabilitation  Hospital  in Washington  D.C.,  they  call  their celebrations "little victories." The goal today is to sit up. Congratulations,  that's  a  victory! The  goal  today  is  to  eat  solid  food. Congratulations! That's  another  victory. These are all little victories in rehabilitation. They even have a six foot whimsical character named Vic that  celebrates  all  these  little  victories. Vic rounds on patients and hands out "little Vics" (tiny little Vic stuffed animals).
Even though receiving medical care is often uncomfortable and, many times, accompanied by a fear of the unknown, it's also full of achievements, and  even  sometimes  life  celebrations. Yet  surprisingly, healthcare often  does  not plan for these moments in life. In a healthcare  setting, different kinds of achievements for both employees and patients can, and should, be celebrated.
For more lessons about Understanding the Customer's Perspective: "Though the Patient's Eyes," click here.