Eric Kidwell
Senior Vice President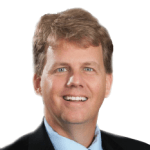 Master Storyteller Energetic, credible and authentic.
Able to explain how the science of great organizations can be applied to any business, he shares his expertise in working with and implementing these strategies.
Tailored to you. By using your own unique, relatable stories and because of his vast experience with both executive teams and front-line employees, Eric can tailor any presentation to your organization.
0
+
Cups of Coffee on the Road
Eric, I just wanted to thank you for a wonderful, lively engaging presentation. I have heard nothing but positive comments from staff and physicians.

Catherine Shock, RN
Manager Clinical Informatics – Edward Medical Group
Eric Kidwell is terrific. He has a tremendous sense of humor and he really brings it all together into something that every single employee can relate to.


Mary Mannix
Augusta Health CEO
Excellent speaker! Eric was very well informed.

Baystate Franklin
For the past two decades, Eric Kidwell has worked hand-in-hand with organizations to help them achieve service excellence. He's a passionate storyteller with a gift for aligning every member of the care team ~ both medical and non-medical personnel ~ toward the same shared goal of creating cultures that support world-class patient experiences.
His approach is simple: Your organization's culture isn't just what you and your employees do … ?It has to become who you are as a family of caregivers.
Eric is authentic, versatile and at-ease in front of every audience. His impressive presentation skills were sharpened in his years as an entertainer, coach, trainer, and broadcaster. And while people love his presentations, they also genuinely like Eric as a person. His keen ability to relate to and interact with every level of the care team lends credibility to his effectiveness as a coach, speaker and facilitator.
He won the prestigious "Champion of Caring Award" for his groundbreaking work completely overhauling the training and new employee orientation for more than 10,000 staff and 400+ clinical providers at Riverside Health System in Virginia. This includes employees at five acute care hospitals, a Rehabilitation Hospital, a Behavioral Health Center, a Medical Education hub for Family Practice and OB/GYN residency programs, and the Riverside School of Health Careers.
In his free time, Eric is a soccer coach and devoted dad. He graduated from James Madison University and currently lives in Orlando, FL with his wife and four children.