Darryl Ross
Vice President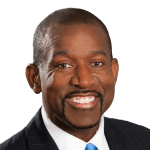 Knows what it takes to be extraordinary.
Warm, genuine keynote speaker and facilitator with compassion in his voice and in his heart.
Engages audiences by perfectly blending storytelling with specific strategies for improving patient experiences.
Skillfully leads workshops not by lecturing, but rather by rolling up his sleeves and working alongside participants.
"Darryl Ross, your presentation was extremely relevant to what our teams face everyday. Your energy and passion in your presentation won them all over! Conversation after conversation, they raved about how much they got out of this. "The best training class" was a phrase repeated often.

Rich Walen
Rite Aid Corp
Had we, as an institution, never found Jake Poore and his associates, we would not have prospered as we have. Our New Value Framework has brought out an environment that now produces significant collaboration, satisfaction and long-term loyalty.


Edward Eckenhoff
President & CEO – National Rehabilitation Hospital
The 'New Value Process' and ILS gave me new insight into understanding how intangible assets could be linked to tangible financial outcomes.


Dennis Warner
Chief Financial Officer
True motivational trainers with a call to action are hard to come by, and Darryl is one of the elite few. Darryl's skills have been honed over 20 years, and he is now a highly sought-after speaker and trainer. He has found his passion in motivating team members and helping organizations to improve patient experiences.
Darryl is a vice president, keynote speaker and top facilitator for Integrated Loyalty Systems (ILS), a company on a mission to help elevate the human side of healthcare. Darryl has conducted keynote speeches, leadership trainings and workshops for VCU Health System, Coverys, Martin Health System, Henry Community Health, Iowa Hospital Association and Defense Health Headquarters in Falls Church, Virginia.
ILS dissects the science of Disney, Ritz-Carlton, Southwest Airlines, and Zappos.com, and applies it to healthcare. For the past 14 years, ILS has been sharing the organizational blueprints needed to build world-class patient experiences by helping them design and execute patient-driven cultural blueprints, define the companies' patient experience strategy, and map out and operationalize the ideal patient and employee experience.
Prior to specializing on the patient experience, Darryl has spoken on topics including Motivation, Customer Service, Overcoming Adversity, and the Extraordinary Mindset. Clients include SHRM, Coca-Cola, Wyndham Vacation Resorts, Mercedes Benz, AT&T, and the Virginia Business Education Conference. Darryl most recently worked for Devry University – Keller Center for Corporate Learning, where he was responsible for creating and conducting presentations for business organizations to promote Devry's management training and development programs.
Previously, Darryl worked as the entertainment reporter for Fox 5 News (Meredith Broadcasting Corp) in Las Vegas. His background also includes work at Heli USA Airways as a sales manager and at Wyndham Vacation Resorts as a presenter/trainer.
Darryl is the author of Be Extraordinary: The Teenager's Roadmap to Success and contributing author to the Brian Tracy book, Jump-Start Your Success. He lives in Winter Garden Florida with his wife and two beautiful children.